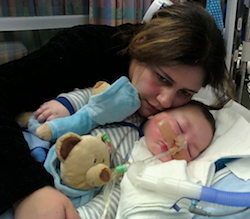 A Canadian baby who was just hours away from having his life support machine turned off, has been flown over the U.S. border against the wishes of doctors in a last ditch effort to prolong his life.
Baby Joseph, who has been at the centre of an international right to life debate, has been moved by a charity and taken from Ontario, Canada to a children's hospital in Missouri.
Pro-life group The Priests For Life said the move gave the stricken 13-month-old baby a chance at life that was being denied to him in Canada.
Moved: Canadian doctors refused to operate on Thirteen-month-old Joseph Maraachli who has a fatal neurodegenerative disease. He is now in the U.S. waiting a tracheotomy
Speaking to Fox News, Father Pavone from the PFL said: 'Priests for Life staff toiled through the night for many nights, working in concert with dozens of people to make this possible.
'Now that we have won the battle against the medical bureaucracy in Canada, the real work of saving Baby Joseph can begin.'
Baby Joseph has an undetermined fatal neurodegenerative disease and can only survive with the aid of a ventilator.
He was admitted to the
London Health Sciences Centre
in October last year and has been intubated ever since.
His parents Moe Maraachli and Sana Nader want the hospital to perform a tracheotomy so they can take the child away because they believe he has a chance of breathing on his own.
They did the same thing with their baby daughter Zina eight years ago - she had a similar condition and died six months after the family took her home.
When the dispute arose the hospital took the family to the Consent and Capacity Board of Ontario, which arbitrates in cases where doctors and families cannot agree.
In their ruling they said Baby Joseph's 'best interests' would involve the 'removal of the endotracheal tube without replacement, a Do Not Resuscitate order and palliative care'.
Joseph was transferred from a hospital in Canada to the St. Louis facility Sunday night by air transport.
Sick: The Parents of baby Joseph hope the operation will prolong his life for up to six months
Denied: Doctors at LHSC would not operate on baby Joseph
The family challenged the judgement in Ontario's Superior Court of Justice but the court went against them.
The group, alongside a number of pro-life organisations, has been heavily critical of the Canadian health care system and has campaigned vigorously for the move.
On their website the PFL said: 'The medical board overseeing his case is apparently convinced that giving proper care to 'Baby Joseph' is futile.
'They don't mean that the medical care won't help him. They mean his life in its current condition isn't
worth the trouble.'
Individual rights campaigners The American Center for Law and Justice (ACLJ) said today it is extremely pleased that a hospital in Missouri has taken Baby Joseph.
Baby Joseph timeline
Jan. 22, 2010 - Joseph Maraachli is born in Windsor and appears healthy.

May 31, 2010 - Joseph suffers seizures and spends a month at Michigan Children's Hospital in Detroit.

Oct. 17, 2010 - Joseph stops breathing and is taken to Children's Hospital in London, where he remains. Doctors later conclude he is in a vegetative state, from which he won't recover.

Jan. 31, 2011- Ontario's Consent and Capacity board orders Joseph's parents to consent to removing life support. They appeal the ruling.

Feb. 17, 2011 - London judge rules the board's decision was reasonable.

Mar. 2. 2011 - parents consider 'mercy dash' to U.S.

Mar. 13. 2011 - baby Joseph flown to

Missouri
The ACLJ has been involved with the
case to assist in exploring options to get their son medical treatment in the United States.
The group, which has worked closely with Priests for Life, said today the SSM Cardinal Glennon Children's Medical Center in St. Louis, Missouri has agreed to provide the medical evaluation and treatment requested by his parents.
Jay Sekulow, Chief Counsel of the ACLJ said: 'We're extremely pleased that this hospital – a leader in health care for children – has stepped forward to care for 'Baby Joseph' at such a critical time.
'We're delighted with the outcome of this complex effort, which clears the way for the family to get the care and medical attention they need and deserve.'
In response the London Health Sciences Centre said their staff had faced a barrage of threats from pro-life groups since the case came to light.
LHSC CEO, Bonnie Adamson said: 'LHSC continues to be proud to stand behind their judgements and the care given to Baby Joseph.
'The judgements were sound, both medically and ethically, and the care Baby Joseph received from our staff was second to none anywhere in the world.
'LHSC physicians and staff were targeted by well-organized social media feeds and directly via email with personal threats, threats to their families, innuendos and falsehoods. The threats, many of which emanated from members of U.S.-based groups, have been passed along to LHSC lawyers who will liaise with police where appropriate.'
The hospital noted that a number of U.S. institutions had already rejected Mr and Mrs Maraachli's calls for baby Joseph to be transferred for the operation.
Mr Adamson added: 'A network of special interest groups refused to accept these facts and attempted to interfere with the most appropriate care possible by advocating for a hospital to accept the baby to implement an alternative care plan.
'
(WS) This is a heart wrenching story which gives us a glimpse as to what life will be like if Obama's Health care Law is allowed to be put into place. Baby Joseph was almost the victim of a death panel just as many in the country where he found refuge will be. This needs to be a wake up call for anyone who is reading this, don't let Obama ruin the greatest health care infrastructure in the world. Everyone needs to get behind the fight to appeal Obamacare before it's to late.
http://www.dailymail.co.uk/news/article-1366107/Right-life-baby-Joseph-Maraachli-taken-U-S-ditch-effort-prolong-life.html